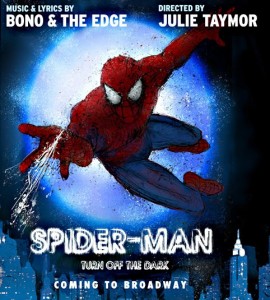 You'd think a Broadway musical based on the Marvel character Spider-Man would crawl to the top of the heap. But technical problems, including injuries to cast members trying to perform the complicated and dangerous stunts, keep this show from moving forward. Here's the latest:
>>Spider-Man On Broadway Creator "Happy" About Delayed Opening
Julie Taymor is not concerned about postponing the opening of Spider Man: Turn Off The Dark from January 11 to February 7, 2011.
"We're happy about it," Taymor told me last night in an interview. And why not? Even in previews, as a work in progress, Spider Man is a hit. It's playing at 98% capacity, taking in almost $1 million a week.