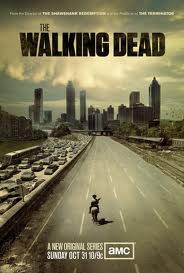 I usually don't like zombies but, as I posted previously, I love The Walking Dead comic book. Well, the show debuted on the cable channel AMC Sunday night, and it performed very well.
First, here's my review as it appeared on the SciFiPulse website.
>>The Walking Dead, "Days Gone Bye," written and directed by Frank Darabont.
It's important for you, the reader, to know that I'm a BIG fan of the comic this show is based on. So I really cannot speak as someone who is looking at this cold. I have a frame of reference for this series, and my expectations were very high going into it. I must say that showing this on Halloween was a brilliant move by AMC.
First, a little background. I got into the comic when I was visiting a local comics shop in my hometown and asked my usual question: What's good that I'm not reading? The store owner pointed me to The Walking Dead, written by some guy named Robert Kirkman.
I immediately protested. "I don't like zombie books," I said. He insisted I give it a try, so I bought the first trade paperback. (If you want to read the comics, I highly suggest you do the same. Knowing where these characters come from is important when understanding the impact of what happens to them later.)
I was gripped right away. The first page sets up the comic brilliantly. We see Rick Grimes, who has been the central character from the first page on, get shot when a car with gun-toting baddies is stopped. The next page, he wakes up in the hospital, and it is a totally different world, one that is much darker and vastly more savage than he remembered.
Rick meets the Jones family, a father and son who help him understand what is going on. When he's ready, Rick sets out to find his wife and son, who he hopes have gone to Atlanta to a refugee camp there.
The rest, as they say, is history.
This comic has a devoted following, and I include myself in that group. I have often told the story of one time when I was so anxious to read the comic when I was driving home from the store that I laid it on the steering wheel so I could try to read it while driving. One of my friends said that doing that very thing might make me one of "the walking dead" as well. So now I wait until I get home to dive into it.
I've been a faithful follower of this comic (as well as other product Mr. Kirkman has created) since then. So imagine my delight when I heard that the book was being translated into a television series for AMC.
Second, I rarely watch AMC, but I hoped that, since this would be one of their first original programs, they would give this the quality treatment it deserves. And guess what? They've done just that.
The show starts out with a sequence that took place later in the comics, but it makes perfect sense to begin there. Rick is looking for gas for his car so he can get to Atlanta. When he finds a gas station, he tries to locate fuel, but cannot find any. Instead, he does discover a young girl who has been zombified. His disappointment is obvious because that means she must be put out of her misery, and only a shot through the head will do that. Rick makes sure the child doesn't suffer any longer.
It's a poignant yet brutal sequence that sets the tone for the rest of the show.
The program really does follow the comics very closely after that. But the one sequence I really enjoyed was Lennie James(of Jericho fame) breathing life into Morgan Jones, who is "hunkering down" with his son and are the family Rick meets soon after he regains consciousness. The notion that his wife has become a zombie and she haunts where they are living is really something that touched me. Is she doing that because some part of her still lives inside the zombie? The show runs this storyline as a counterpoint to Rick's following up on one of the first zombies he sees, a woman who no longer has the lower portion of her body and is reduced to pulling herself along by her hands in order to find flesh to eat. Will Rick kill that woman, and will Morgan kill his wife? It's a touching and surprising portion of the first episode.
The image of Rick riding a horse into Atlanta on an empty highway lane while the road leaving the city is full of abandoned cars again emphasizes the solitude of what is now a much quieter country, and possibly a silent world. Those of us who have read the comics know that this is only the beginning of the suffering that Rick will have to endure.
I don't usually like stories in which the blood can be measured in gallons, but it splatters all over the place on this show. If you get queasy at the sight of blood, be prepared! You'll see quite a LOT of it on this program.
Don't think that the zombies are the center of this series, though. They're not–they're kind of like the Hulk is in the comics. They grunt and groan, but what they do is propel the story along in unusual and often shocking ways. A single bite or cut from one of them can kill you, but that's not the worst part–you will likely come back as a flesh-eating "walker," as they zombies are called.
Really, this is all about the people–who they are, how they react, and what they do to try to live a worthwhile life. We see in this first 90 minutes that some couldn't deal with the new world order and have committed suicide. Others are banding together to maintain strength in numbers. But the genius of Mr. Kirkman's writing is that humans, for all their good and bad points, are completely unpredictable in these extreme circumstances. And that's what made for an amazing comic and what I am confident will continue to be powerful television.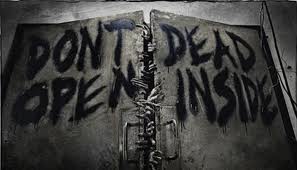 The thing that impressed me the most was that the program gave me the same feelings as (in fact, reminded me of) the initial books in this series. Coming from me, that's a high recommendation!
DO NOT MISS THIS SHOW! You will see great sadness coupled with surprising humor. For instance, Rick has escaped the hospital to find a bike, and he's riding it with some of his hospital garments still on. Those are the kinds of things that would very likely take place if this extreme situation were ever to really take place. Mr. Kirkman has a tremendous flair for making us care about the characters, then subjecting them to terrible trials and circumstances, and we grieve with them.
I hear that a second season is already in the works. I'm glad to know that because I can already tell that six episodes will not nearly be enough! More!<<
And here's the press release from AMC about how well it did in terms of ratings and reviews:
>>AMC'S THE WALKING DEAD SCORES A 3.7 HH RATING
AMC ORIGINAL SERIES GARNERS HIGHEST 18-49 DELIVERY
FOR ANY CABLE SERIES PREMIERE FOR 2010
HIGHEST PREMIERE IN AMC'S HISTORY FOR ORIGINAL SERIES
New York, NY – November 1, 2010 – Last night's premiere of AMC's original series, "The Walking Dead" resulted in a 3.7 HH rating netting over 5.3 total million viewers making it the largest audience for any original series on the network.  The Adults 18-49 demo garnered 3.6 million viewers making it the highest delivery for any cable series premiere for 2010.
Key Ratings Highlights for The Walking Dead:
10pm airing – 3.7 HH rating with 5.3 million total viewers;
10 pm, 11:30 pm and 1am airings – Cumed to a 6.0 HH rating with 8.1 million viewers;
Adults 25-54 – 3.1 million viewers;
Adults 18-49 – 3.6 million viewers;
Adults 18-34 – 2.1 million viewers.
"It's a good day to be dead. We are so proud of this series, its depth of storytelling and the remarkable talent attached," said Charlie Collier, AMC's president. "As the network dedicated to bringing viewers the best stories on television, we are so pleased to have the opportunity with 'The Walking Dead' to raise the bar within this popular genre and continue our commitment to being the home of premium television on basic cable."
"'The Walking Dead' is that rare piece of programming that works on so many levels. It is legitimately great storytelling that is not only highly entertaining, but incredibly thought provoking as well. People who are familiar with the comic books know what's coming, but suffice it to say, this is only the beginning of a long, intense, and powerful ride. Long live 'The Walking Dead'," said Joel Stillerman, AMC's SVP of original programming, production and digital content.
AMC's first wholly-owned original production, "The Walking Dead" premiered globally on October 31 through an unprecedented partnership with AMC and Fox International Channels. Similar to a theatrical film release, all Fox International Channels are launching the premiere episode this week, resulting in the series' debuting in 120 countries and in 33 languages.
The Walking Dead premiered as part of AMC FEARFEST, the most highly anticipated horror movie marathon of the Halloween season. The network's two-week marathon featured nearly 300 hours of horror-themed programming, including more than 60 films. The marathon aired October 18 through October 31, culminating with the 90-minute world premiere of "The Walking Dead."
"The Walking Dead" is based on the comic book series written by Robert Kirkman and published by Image Comics.  Kirkman serves as an executive producer on the project and three-time Academy Award-nominee Frank Darabont (The Shawshank Redemption, The Green Mile) serves as writer, director and executive producer. Gale Anne Hurd (The Terminator, Aliens, Armageddon, The Incredible Hulk), chairman of Valhalla Motion Pictures, serves as Executive Producer. David Alpert from Circle of Confusion serves as Executive Producer. Today's announcement also includes the addition of Charles "Chic" Eglee (Dexter, The Shield, Dark Angel) as Executive Producer.
"The Walking Dead" tells the story of the months and years that follow after a zombie apocalypse. It follows a group of survivors, led by police officer Rick Grimes, who travel in search of a safe and secure home.  The comic goes on to explore the challenges of life in a world overrun by zombies who take a toll on the survivors, and sometimes the interpersonal conflicts present a greater danger to their continuing survival than the zombies that roam the country.  Over time, the characters are changed by the constant exposure to death and some grow willing to do anything to survive.
"The Walking Dead" received rave reviews from countless critics, who heralded the series as "visually stunning…and daring in its artful use of silence" (TV Guide), "…breathtaking in its small moments, in which the pain and glory of being human are conveyed with only the flick of a filmmaking wrist." (Wall Street Journal), "…evocative, suspenseful" (Boston Globe) "…surprisingly scary and remarkably good" (The New York Times) "…a triumph of tone and mood" (Contra Costa Times) and "a real achievement for a horror show on a basic-cable network" (Rolling Stone). In addition, "The Walking Dead" received "4 Stars" from People and "3 Stars" from the New York Daily News and New York Post, among other outlets.<<
Looks like I'll get my wish for more Walking Dead.
Here's the trailer for the show:
Related Posts:
« We're Going The Wrong Way! 'Trek' Fans Set Facts Right On Australian Website »