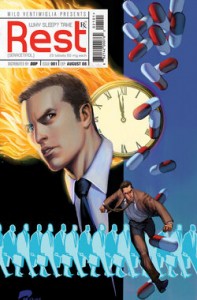 I recently caught up with Rest, a sci-fi comic about people who take a drug that allows them to live without sleep. Originally, only a couple of issues had been released. However, last week, the rest of the story was published with the previous issues in a trade paperback, which is something very special.
Here's a story from Comic Book Resources about the book being translated to TV:
>>With Heroes behind him, Milo Ventimiglia is finally getting some Rest.
Deadline reports that the actor, lifelong comic book fan and recently minted comic book creator is set to star in a television adaptation of Rest, the comic book series he co-created with his Divide Pictures producing partner Russ Cundiff. Ventimiglia's latest project sees him returning to familiar territory on two fronts: not only is Rest a comics-based series similar to the superhero-themed Heroes, but the TV show will air on NBC, the network that once housed the recently canceled series. Ventimiglia and Cundiff are both serving as executive producers on the project alongside Marc Silvestri and Matt Hawkins from Top Cow, the comic book company responsible for publishing Rest. Smallville writer Philip Levens has been tapped to adapt the comic book for the small screen.
Rest tells the story of John Barrett, a work-obsessed New York City resident without much time for a social life. When an old friend encourages Barrett to enroll in a testing program for a new drug that supposedly eliminates the need for sleep, Barrett agrees — but as a result, he grows addicted to the drug and finds himself facing down a potentially world-changing conspiracy as a result.
Written by Mark Powers with art by Shawn McManus and Marco Castiello, the first six issues of Rest were collected as a trade paperback released at last month's New York Comic Con. Keep it locked into CBR News and Spinoff Online for more details on Rest as they become available and check out the following CBR TV interview with Ventimigila when the actor was promoting the comic.<<
Here's an older video interview about the comic:
Related Posts:
« Your Medicine May Be Watching You Some Great Holiday Songs – 1 »