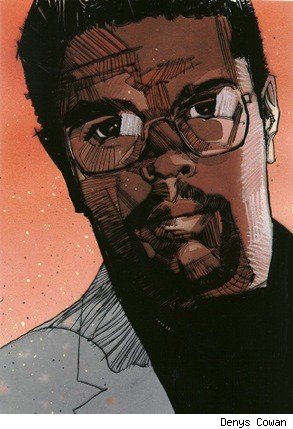 I've enjoyed the work of Dwayne McDuffie for years. He did terrific things on television as well as comics. To hear of his passing today was quite a shock to me. Here's the story from Reuters:
>>(Reuters) – Comic and television writer Dwayne McDuffie, perhaps best known as the co-creator of Emmy Award winning animated TV series "Static Shock," has died, his publisher DC Comics said on Tuesday. He was 49 years-old.
McDuffie died on Monday due to complications in surgery, according to a report on the website Comic Book Resources, but the cause of death could not immediately be confirmed.
"Dwayne McDuffie left a lasting legacy on the world of comics that many writers can only aspire to," Dan DiDio, co-publisher of DC Comics media division DC Entertainment, said in a statement on Tuesday.
"He will not only be remembered as the extremely gifted writer whose scripts have been realized as comic books, in television shows and on the silver screen, but as the creator or co-creator of so many of the much-loved Milestone characters, including Static Shock," DiDio said.
McDuffie, a native of Detroit, Michigan, was the co-founder and creator of Milestone Media, and a story editor and co-creator of "Static Shock." He won the 2003 Humanitas Prize for his "Static Shock" script "Jimmy," about gun violence in schools.
McDuffie created or co-created more than a dozen comic series including "Damage Control," "Icon" and "Xombi." He wrote stories for numerous other comics including, "Spider-Man," "Batman: Legends of The Dark Knight" and "The Tick." He also was nominated for two of TV's Emmy Awards for "Static Shock," according to his biography on his website, dwaynemcduffie.com.<<
In his honor, I thought I'd play the promo for the most recent project that he helped bring to fans, All-Star Superman:
Related Posts:
« Another Musical Weekend: The Guys Sing Man Leaves Dead Uncle To Go Gambling »