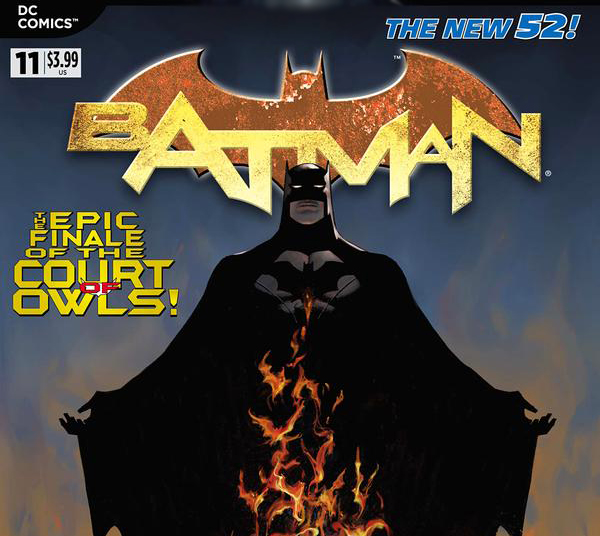 I just couldn't decide which of the three top books that came out this week to highlight, so I'm going to review them all in alphabetical order!
1. Batman #11. The Court of Owls epic building for the past year comes to its stunning conclusion as Batman brings to light the mad machinations of the mysterious organization.
Batman finally faces his "brother" (Owlman?) and then has to pick up the pieces before moving forward. At the end of the issue, Bruce has a great discussion with Dick Grayson, and they talk about what's been revealed about them. Great job!
The pacing is great, the art is gripping and the book is a strong conclusion to the year-long story!
I only have one quibble — How could Batman hear what his brother was saying when he's hanging on for dear life inside an airplane engine? I'm not sure on that one!
Scott Snyder and Greg Capullo have cemented their wing in the Batman Hall of Fame with this storyline. They've changed how I'll look at my favorite comics character forever, and I can't wait to see what they do next with the Joker!
2. Hoax Hunters #1. "Die Off Another Day," Part One – The acclaimed backup begins its own series! A rash of mass animal deaths leads the Hoax Hunters to the Louisiana bayou. What they find is a mystery that harkens to Jack's past – and a dangerous cryptid bent on revenge!
I previewed this wonderful comic from Michael Moreci a while back, and I'm thrilled to have a paper copy to keep! Here's a little of what I said about the comic:
>>The book has a quick pace and timing to it, making me anxious to turn the page to see what happens next. Also, the art by Axel Medellin is just perfect for the tone of the story. In fact, I was so engrossed in the comic that I kept hearing the song "Swamp Witch" playing in my head as I read along … that's how good the storytelling is!
Hoax Hunters is an interesting blend of The X-Files, Challengers Of The Unknown, BPRD and Supernatural. You simply have no idea what will happen next, and that makes for a powerful reading experience not be missed! While it isn't required to understand what's taking place, picking up the "zero" issue before you read this first one would be well worth your effort! That way, you'll be completely caught up on everybody and everything we know … so far!<<
Be sure to pick up this terrific comic!
3. The Walking Dead #100. "SOMETHING TO FEAR" CONTINUES! This extra-sized chapter contains one of the darkest moments in Rick Grimes' life, and one of the most violent and brutal things to happen within the pages of this series. 100 issues later, this series remains just as relentless as the debut issue. Do not miss the monumental 100th issue of The Walking Dead!
What makes this comic one for the ages is that someone who has been in the series since the first story line actually buys the farm! If you're expecting me to reveal just who that is, guess again! Be sure to pick up the comic!
Also, we come to find out that much of what we've been led to believe is true in the last several issues is not true at all, and will have implications going forward regarding how the band of humans deals with the new group of humans they recently met. It won't be pretty!
I expect this comic to sell well, and why not? Fans of the book as well as those who enjoy AMC's TV show based on it keep local comics shops happy as they sell trades of it every month! Don't miss it!
This week's 'New 52′ Reviews: Here are quick thoughts on the other DC 'New 52′ books out this week! Batgirl continues to be one of the very best of the DC offerings, and the first part of 'Knightfall' starts here! Swamp Thing finishes the set up before the crossover with Animal Man. Batman And Robin has Damien taking on the other Robins. Demon Knights #11 by Paul Cornell travels to Camelot. The Ravagers has the group against Brother Blood! Also, Superboy #11 has the Teen of Steel teaming up with Bunker from the Teen Titans. Deathstroke fights Lobo. Resurrection Man begins with Mitch using shadow powers. Legion Lost sees the group attacked by the Meta-Marines. Suicide Squad shows the team venture to the land of the Mayans. Grifter is exploring his new power, but that book was still the least of this week's 'New 52.' Looking ahead, we're going to see many more crossovers and team-ups in the coming months.
Other books worth picking up this week included Batman: Arkham Unhinged #4, Before Watchmen: The Minutemen #2, Green Lantern: The Animated Series #4, Shade #10 and Saucer Country #5 from DC Comics; Takio #2 and Venom #20 from Marvel; Locke & Key Vol. 5: Clockworks hardcover and Richard Stark's Parker: The Score from IDW; Atomic Robo Real Science Adventures #4 from Red 5; as well as Kevin Smith's Bionic Man#10 from Dynamite!
Have you listened to the latest episode of the Wayne's Comics podcast yet? Excellent comics artist Tommy Lee Edwards is here, discussing The Random Adventures Of Brandon Generator, an online comic you can read at brandongenerator.com! He talks with me about creating Turf with Jonathan Ross, and shares his views on digital comics, among other things! You'll enjoy what he has to say during our interview!
Next I give a quick review of the latest books, followed by 'News & Previews' with Gianluca Glazer. Then everything wraps up with my re-airing the interesting conversation I had a couple of months back with novelist Gregg Hurwitz, who now is writing Batman: The Dark Knight. He gives a lot of insight into his writing and what he hopes to accomplish on the DC title with artist David Finch.
To listen in, just go to this link at waynescomicspodcast.com!
Follow Me On Twitter @WaynesComics
Join Me On Facebook At: www.facebook.com/WaynesComics
Related Posts:
« Comics Portal: 'Batman: Legends Of The Dark Knight' Music Review: 'The Dark Knight Rises' Soundtrack »