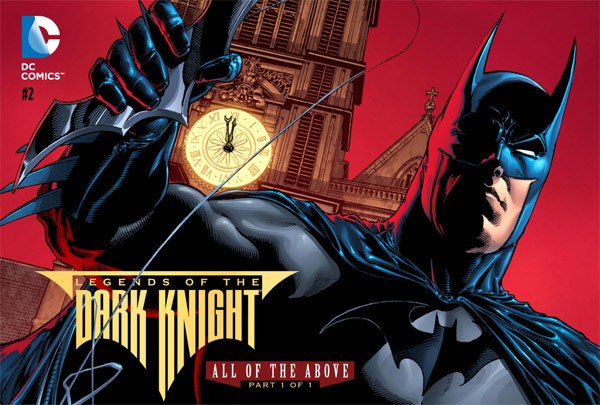 With digital very likely to be a major player for comics in the future, many comics companies are getting an early start on the entire "revolution" that may see us downloading issues from an FTP site rather than going to our local comics shops … sooner than we think!
DC Comics has been putting their toe in the water a lot recently, with some books like Batman Beyond Unlimited and Smallville Season 11 appearing in digital format before they are collected into a monthly comic. (I do love that first one especially, by the way!)
Recently, the company revived a previous Batman title with Batman: Legends Of The Dark Knight, which can only be purchased online … so far. Here's the description: "On Thursdays beginning in June, a new digital Batman series will showcase stories of the Dark Knight outside of regular DC Comics continuity and feature artists and writers such as Ben Templesmith, Steve Niles, B. Clay Moore, Nicola Scott and Joshua Hale Fialkov. One all-star issue teams writer — and Lost co-creator —Damon Lindelof with artist Jeff Lemire (Animal Man, Sweet Tooth)." Each chapter retails for .99 cents.
As of this writing, we've seen the following short stories released:
June 7 – "The Butler Did It" written by Damon Lindelof with artwork by Jeff Lemire
June 14 – "All of the Above" written by Jonathan Larsen with artwork by JG Jones
June 21 – "The Crime Never Committed" written by Tom Taylor with artwork by Nicola Scott and Wayne Faucher
June 28 – "Crisis of Identity" Part 1 written by B. Clay Moore with artwork by Ben Templesmith
July 5 – "Crisis of Identity" Part 2 written by B. Clay Moore with artwork by Ben Templesmith
July 12 – "Crisis of Identity" Part 3 written by B. Clay Moore with artwork by Ben Templesmith (coming out this week)
"Our goal has always been from the very beginning to have something for everyone. The opportunities that digital opens up, it really allows us to go for as wide an audience as possible," said Hank Kanalz, DC's senior vice president for digital.
It's great to read a short story instead of a longer tale, which happens nearly all of the time in comics these days. And being a big Batman fan, I'm loving the chance to see folks strut their stuff who haven't been working with the Dark Knight in the past.
"The Butler Did It" was a pretty interesting look at Batman's motivations. Amazo takes on the Dark Knight in "All Of The Above," which I also enjoyed a lot. "The world's greatest detective preemptively stops the world's dumbest criminal" in "The Crime Never Committed." Then the Joker convinces ordinary citizens that they are actually Batman so they'll try to take down Killer Croc, which doesn't end well! This last one is the first multi-part story, which is expected to conclude this week!
It's tough to pick out one that I preferred above the others, but the Joker story has the most unexpected twists and turns. But hey, that doesn't mean the rest are bad! Far from it!
Every Thursday, I have a new ritual … to pick up the newest digital Batman: Legends Of The Dark Knight! If you like Batman, short stories or digital comics, you should make it part of your routine as well! You can purchase, download and read your "copies" at this website!
Have you listened to the latest episode of the Wayne's Comics podcast yet?
Excellent comics artist Tommy Lee Edwards is here, discussing The Random Adventures Of Brandon Generator, an online comic you can read at brandongenerator.com! He talks with me about creating Turf with Jonathan Ross, and shares his views on digital comics, among other things! You'll enjoy what he has to say during our interview!
Next I give a quick review of the latest books, followed by 'News & Previews' with Gianluca Glazer. Then everything wraps up with my re-airing the interesting conversation I had a couple of months back with novelist Gregg Hurwitz, who now is writing Batman: The Dark Knight. He gives a lot of insight into his writing and what he hopes to accomplish on the DC title with artist David Finch.
To listen in, just go to this link at waynescomicspodcast.com!
Follow Me On Twitter @WaynesComics
Join Me On Facebook At: www.facebook.com/WaynesComics
Related Posts:
« The Blog Is Back! DC Comics And Beyond: 'Batman,' 'Hoax Hunters' And 'The Walking Dead' »