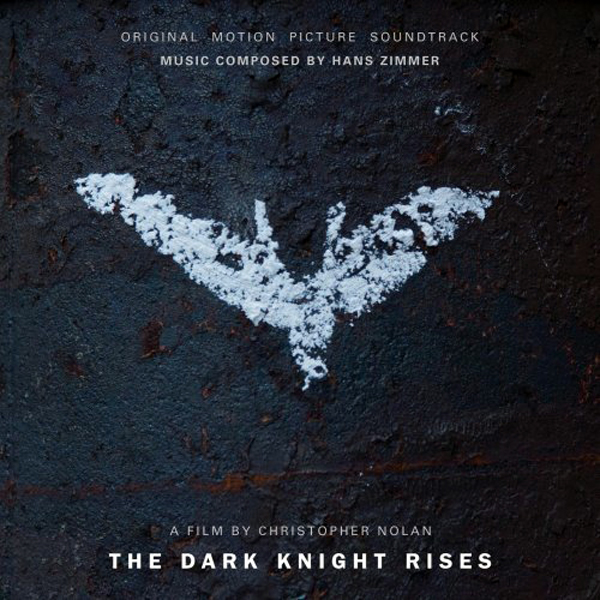 Christopher Nolan's Batman trilogy of films has been a blockbuster one, breaking records around the world. Now the finale, The Dark Knight Rises, is about to swoop into theaters on Friday, July 20, and the soundtrack is widely available as of Tuesday, July 17.
One of the components that has made the movies so successful has been Hans Zimmer's dynamic scores. His "Mozilla" from Batman Begins still gives me goosebumps. And the music from the final film is just as moving, if not more so.
The Dark Knight Rises Original Motion Picture Soundtrack is a dark, percussive exploration of the depths to which the human psyche can go. It continues what I've considered a "tribal" feel the music in the trilogy has had, which I think is very appropriate since Gotham City is a perfect example of a "concrete jungle." In the films, we've seen just how dangerous and destructive Gotham can be, even to those heroically trying to make things better. One gets the sense that "civilized" is a word not heard often when it comes to Gotham City. Zimmer once again delivers a profound, moving score that is both disturbing and powerful. Wow!
Interestingly enough, the 'theme' from the "Mozilla" is only heard a few times during the entire soundtrack, and then only near the end of the collection. Still, the music is gripping and dynamic, the perfect soundtrack to what is sure to be an "adult" film in the best sense of the word.
My favorite tracks include the first, "A Storm Is Coming," "Mind If I Cut In?" "The Fire Rises" and "Necessary Evil." Of course, I have to point out that the other pieces are fascinating ones, and I can't wait to see how they work in the film.
It's the ideal way to prepare for your trip to the theater (other than re-viewing Batman Begins and The Dark Knight, which I hear will be important to gleaning as much as possible from The Dark Knight Rises).
Rating: 5 out of 5
Have you tuned in to the latest episode of the Wayne's Comics podcast yet? To listen in, just go to this link at waynescomicspodcast.com!
Follow Me On Twitter @WaynesComics
Join Me On Facebook At: www.facebook.com/WaynesComics
Related Posts:
« DC Comics And Beyond: 'Batman,' 'Hoax Hunters' And 'The Walking Dead' DC Comics And Beyond: Two Great 'Star Trek' Issues! »