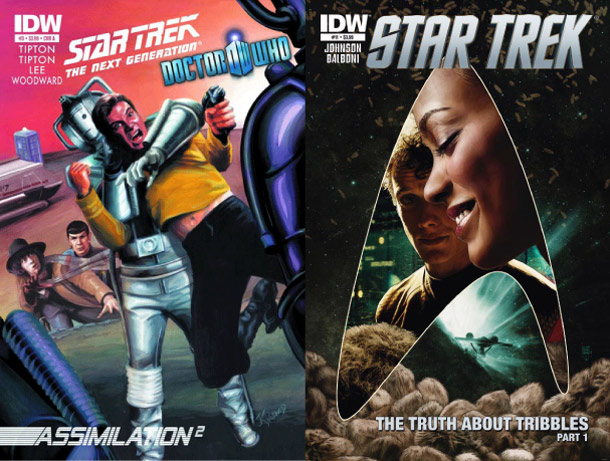 We've still got months to wait for the next Star Trek feature film to warp into theaters, but until then, IDW is making some great Trek comics, and two of them arrived in stores this week!
1. Star Trek: The Next Generation/Doctor Who Assimilation2 (Squared) #3. Scott & David Tipton with Tony Lee (w) • J.K. Woodward (a) The two greatest science-fiction properties of all time cross over for the first time in history, in STAR TREK: THE NEXT GENERATION/DOCTOR WHO: ASSIMILATION2! The true horror of the Borg-Cybermen alliance has been revealed, but what course of action will Captain Picard and the Doctor agree upon? And will the Doctor's recently resurfaced memories shed new night on the dilemma? FC • 32 pages • $3.99
It's still great to see all the members of the Enterprise D team interact with the folks from the Tardis. However, the most fun part of this issue for me was a flashback when the Doctor (Tom Baker) works together with Captain Kirk, Mr. Spock and the rest of that Enterprise crew. Even the art style changes, from painting to a more standard comic-book look. It's a very well done sequence. I laughed when the Doctor asks Kirk to distract a Cyberman, and Kirk uses one of his trademark techniques! The last page has an interesting development that makes perfect sense given that the universes seem to be changed somehow! Excellent book, as usual!
You can listen to my recent interview with the Tiptons during my Wayne's Comics podcast! They have some very interesting things to say about the project, including the fact that they can't wait for you to get to read it! You can listen to it at this link!
2. Star Trek Ongoing #11. Mike Johnson (w) • Claudia Balboni (a) • Tim Bradstreet (c) "The Truth About Tribbles!" Part 1! The countdown to next year's blockbuster STAR TREK sequel continues here, as the crew of the Enterprise encounters the classic alien species in an ALL-NEW story! Inspired by the fan-favorite episode "The Trouble With Tribbles," this new two-part adventure is overseen by STAR TREK sequel writer/producer Roberto Orci! FC • 32 pages • $3.99
The Tribbles remain one of the most popular sci-fi aliens of all time, and this story shows how the revised continuity meets them. It's very different from the "Trouble With Tribbles' that we're used to, but it has its comedic moments while explaining just where these little furballs come from!  It's a lot of fun, so be sure to pick this one up!
New 52 Reviews: Here are more quick thoughts on the DC books out this week. First up is Justice League, which continues the current, fascinating story line. We see the heroes encounter important "visions" from their pasts. Next, Nightwing tries to figure out just who is framing him. Birds Of Prey has Poison Ivy coerce the team into helping her. Catwoman #11 is full of action as Judd Winick prepares to leave the book. Red Hood And The Outlaws #11 reveals Starfire's origin in the new continuity. Then came Green Lantern Corps #11 by Peter J. Tomasi, which shows the return of the Manhunters! Wonder Woman continues a "godly" story! Batwoman #11 has her facing a shape-shifter. Captain Atom has him granting wishes to those around him. Supergirl is hunted by a person covered in nanotechnology. Legion Of Super-Heroes continues an interesting tale with the Dominators, one of my favorite DC alien races. Blue Beetle meets Booster Gold for the first time in the 'New 52.' DC Comics Presents concludes the 'Savage' (as in Vandal Savage' and his daughter) three-issue story. Good reading all around!
Other books worth picking up this week included Batman Beyond Unlimited #6, Before Watchmen: Silk Spectre #2 and Young Justice #18 from DC Comics; Avengers Academy #33, Daredevil #15 and Secret Service #3 from Marvel; X-O Manowar #3 from Valiant; as well as The Spider #3. the Warehouse 13 trade paperback, and Warlord Of Mars: Dejah Thoris #13 from Dynamite!
Have you tuned in to the latest episode of the Wayne's Comics podcast yet? To listen in, just go to this link at waynescomicspodcast.com!
Follow Me On Twitter @WaynesComics
Join Me On Facebook At: www.facebook.com/WaynesComics
Related Posts:
« Music Review: 'The Dark Knight Rises' Soundtrack Movie Review: 'The Dark Knight Rises' »