Since I write the stories for SciFiPulse.net that appear on Mondays, I came across this interesting article about the most recent episode of Doctor Who–at least, the one that aired in the UK last Saturday: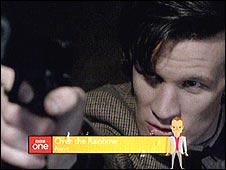 >>It happened during the very emotional sequence at the end of "The Time Of Angels" as it aired on the BBC in the UK.
While Matt Smith, the Eleventh Doctor, was talking to the baddies, an on-screen caption with an animated cartoon of Graham Norton, who hosts Over The Rainbow, appeared at the bottom of the frame, covering part of Smith's face (including his mouth) as he gave the stirring speech.
Thousands of Doctor Who fans have since contacted the BBC to say that the ending of Saturday night's episode was ruined by that trailer for the following show. The advertisement was seen by millions of viewers watching on BBC One in England, according to the BBC.
"Why is the BBC treating its audience like idiots?" wrote one fan on Twitter. Another said: "Don't blink, or Graham Norton will catch you."
It didn't take long before the BBC acknowledged that this was a mistake on their part. "We apologise for the timing of Saturday night's trail," a BBC spokesman said on Sunday. The BBC often promotes shows in this way, but the corporation said that, in this case, the scheduling was inappropriate.
Who fans should be used to unexpected appearances by Norton by now. When the series returned in 2005 after a 16-year break, a technical error caused Norton's voice to be briefly heard over the episode's opening scenes.
In a related story, Who star Matt Smith is constantly breaking bits of the set during filming, the show's boss revealed. Executive Producer Steven Moffat described the young actor as a cross between action hero Indiana Jones and funnyman Stan Laurel, according to sundaymercury.net.
Viewers will see the result of one of the Midland TV star's accidents restaged for the cameras in the latest edition of the BBC1 series, the report said.<<
Here's the original link on the website: http://scifipulse.net/?p=24751.
When I mentioned this story to my co-workers, it dawned on me what the over 5,000 people who called the BBC might have been complaining about! Keep the publicly gay Graham Norton away from Matt Smith's mouth! It's darn rude!

Speaking of Doctor Who, here is the show's new theme music, which some folks don't seem to like so much. It doesn't bother me, however:
Audio clip: Adobe Flash Player (version 9 or above) is required to play this audio clip. Download the latest version here. You also need to have JavaScript enabled in your browser.
Related Posts: