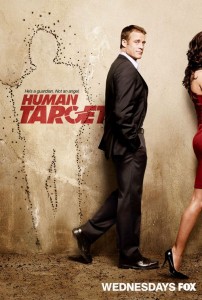 This year, the program I found to be the most fun of the new offerings (and also of many of the other shows on television) was The Human Target on Fox. It had action! It had adventure! They did things I'd never seen before on the tube, including a fistfight inside a moving car!
But the network was hesitant to renew the show for some reason. I guess the ratings weren't the best, but it did appeal strongly to the male demographic, and that group tends to spend money more than other groups, so it might be worth advertising on that show (if you are trying to sell a product guys would consider buying).
Then, too, Human Target usually had self-contained episodes that wrapped up most of the storylines within the hour. But during the season finale, they treated us to a cliffhanger, which made me want it back for another year even more!
I worried and I hemmed and I hawed and I talked the show up in an effort to help get the show back for another year. I talked with Ian Cullen about it on the SciFiPulse podcast, and specifically asked anyone listening from Fox to bring this show back.
Well, maybe the television gods were listening because I found out this week that Human Target would again be gracing the airwaves next season. Excuse me while I briefly celebrate: Yay!
The cancellation axe fell on FlashForward, an ABC program I had watched briefly. It wasn't bad, but it didn't hold my attention very long, sadly. I'm not sorry to see it go.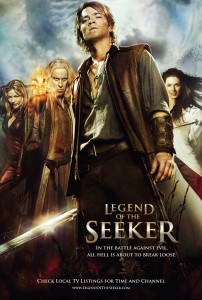 V is another story. I don't know what to make of that program. There are times I really like it, and then there are other periods when I feel like giving up on it. I'll watch it again next season, but it is on double-secret probation. I had much higher hopes for the reboot of a popular genre show from long ago, but it hasn't lived up to them. We'll see what next year brings.
Then too, Legend Of The Seeker, a syndicated show I grew to like a lot more during its second season, has been cancelled. It never fails—I start to like a program, and it dies as soon as that happens. Seeker filled the needs of fantasy fans, but apparently there weren't enough of them to keep the series going. That's too bad. The action and fantasy were a nice diversion from the usual cop show or situation comedy.
What will the new season bring? We'll find out a lot more this week when the networks hold their "upfronts," in which they release their schedules for the fall of 2010. I hope there will be a lot of good news soon!
For today's video, I thought I'd show you the opening credits to The Human Target, which I found surprisingly artsy. See what you think:
Related Posts:
« Is Friday Really Friday … Or Is It Thursday? Or Maybe Saturday? The iPad: It's Not 'If,' But 'When' We'll Buy It »