After a nice, warm, leisurely weekend, what do we have to look forward to here in the Metro DC area? Traffic!
Vacations are over, school is in session, life is back to normal–according to the Washington Post. Here's the link, but feel free to read the story below:
>>It's ba-ack: D.C. area drivers, prepare for 'Terrible Traffic Tuesday'
Washington Post Staff Writer
Monday, September 6, 2010; 1:00 PM
How about if everyone takes Tuesday off? What, you say you can't? Then join the crowd — of about 1.5 million who plan to drive to work alone after celebrating the traditional end to summer on Labor Day.
The respite from obscene traffic congestion that was July and August is over, a fact punctuated by the dawn of what the local American Automobile Association likes to call "Terrible Traffic Tuesday."
"When the alarm clock sounds Tuesday morning, commuters will once again face a mind-numbing, soul-robbing surge in gridlock for the first time in months," said AAA spokesman John B. Townsend II. "Many of them will drive alone in bumper-to-bumper traffic, along with thousands of school buses transporting nearly a million students, including those heading to school on the Virginia side of the Potomac for the first time."
Townsend says half of the region's 3 million workers will drive to work alone.
AAA has joined with transportation planners who are encouraging commuters to help avert gridlock.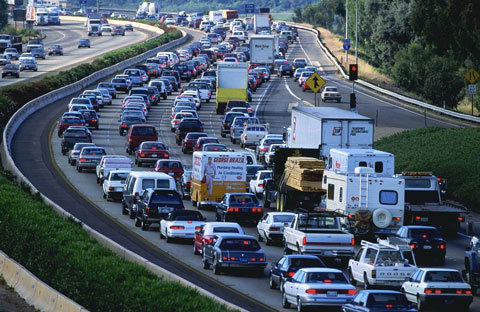 "We are poised to help guide commuters into trying and using great alternatives to driving alone to and from work during this increase in traffic congestion when people are back from vacations and schools are back in session," said Nicholas W. Ramfos, director of Commuter Connections. "Commuters who use alternatives like carpooling, transit and bicycling may find they save money and time and feel less stressed."
The return of the masses to work will coincide with resumption of road work that took a holiday weekend hiatus.
Ongoing construction will resume on the Interstate 495 high-occupancy toll lanes along a 14-mile corridor in Virginia from the Springfield interchange to the Dulles Toll Road, with a major shift of four lanes on Friday as a new bridge opens over Route 50.
Another big move in that project will take place overnight starting Wednesday, when I-495 southbound will close starting 9:30 p.m. at Interstate 66 as the old I-66 eastbound bridges over the Capital Beltway are demolished. Those overnight closings are expected to last two weeks.
Across the river, the Maryland State Highway Administration has scheduled a busy week of highway repair.
In Montgomery County, there will be roadwork on Good Hope Road, on MD 124 between Airpark Road and Rosewood Manor Lane, and on MD 355 between Montrose and Old Georgetown roads.
In Prince George's County, there will be multiple overnight closures on portions of Interstate 95. There also will be daytime lane closures on U.S. 301 as rehabilitation of the MD 214 bridge continues.
Commuters in Georgetown will find they now can make a left turn from M Street onto northbound Wisconsin Avenue. The "no left turn" restriction has been removed, replaced with a left turn arrow.<<
Never been in DC traffic? Check out this video:
Related Posts:
« Have A Great Labor Day Weekend! Zombies Are In A 'Class' By Themselves »