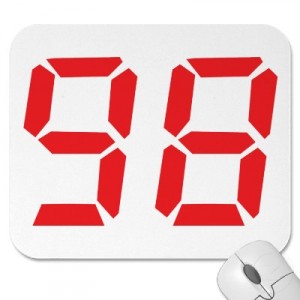 I have wondered aloud in this blog if we were ever going to get along. Every day, I seem to read something that adds doubt that it will ever truly happen.
Take, for instance, what happened on late Friday night/early Saturday morning on the Washington, DC, Metro (subway system). Apparently a huge fight broke out, although no one seems to be reporting why it happened. Here's the story from the Washington Post:
>>Injuries, arrests after massive 70-person Metro brawl
By Martin Weil
Washington Post Staff Writer
Saturday, August 7, 2010; 12:46 AM
At least four people were injured and three arrested late Friday night after a brawl in the Metro system involving as many as 70 people, a Metro spokeswoman said.
The brawl apparently began about 11 p.m. at the Gallery Place station and then continued in the L'Enfant Plaza station, according to Metro spokeswoman Cathy Asato.
Transit police were called to Gallery Place in Northwest Washington where a disorderly group was reported, she said. Then police were sent to the L'Enfant Plaza station two stops away in Southwest, where a fight was reported on the platform for Green and Yellow Line trains.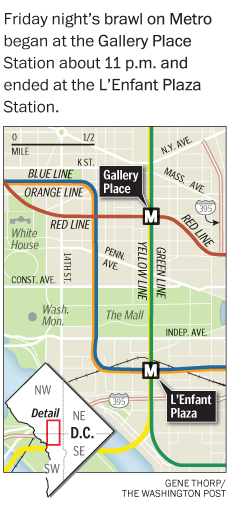 She said two persons under 18 were arrested along with one adult. Of the injured, she said two were juveniles and two were adults. One of the adults was reported early Saturday to be in serious condition. At one point, a spokesman for the D.C. fire and emergency services department said as many as seven people were being examined for possible injury.
It was not immediately known what prompted the fighting.
A preliminary account indicated that there was a possible injury at the Anacostia Metro station about the same time. Officials said they were trying to determine whether that incident was connected to the brawl.<<
I know, Friday night and the teens/young adults are in the mood to rumble, but yikes–what could get so many people involved in something like this over two Metro stations?  THAT I will be anxious to learn.
Here's another story, but this time from an apparent rider on the Metro:
>>Rider recounts 'frightening' teen fight on Metro
By Ann E. Marimow and Martin Weil
Sunday, August 8, 2010
Billy Fettweis of Capitol Hill was planning to catch Metro home after a late dinner at Gallery Place on Friday when he got caught up in a massive brawl that officials say involved as many as 70 people, led to three arrests and put four
"It was very frightening. We didn't know what was happening," said Fettweis, 24, whose companion was pushed out of a train car and knocked to the ground. "Who were these people?"
Metro Transit Police have charged three District teenagers in the fight that began at the Gallery Place Station about 11 p.m., continued on the train and spilled onto the platform for the Green and Yellow lines at L'Enfant Plaza Station. It is unclear how many people in the crowd were fighting.
The Gallery Place neighborhood in Northwest Washington has become a popular hangout for teenagers, and the D.C. police department has enhanced its presence in the area.
D.C. Council member Tommy Wells (D-Ward 6) said he thinks the answer is an earlier curfew. District residents 17 and younger have to be off the streets by midnight in the summer. Wells proposed an 11 p.m. curfew for people 15 and younger, but most of the council members opposed the move, with some saying that it could lead to profiling.
"Curfews do have an impact, especially in that area. I wish I had been able to get enough of my colleagues to vote for it," Wells said Saturday. "It gives the police one more tool to help ensure that young people are not out doing bad things."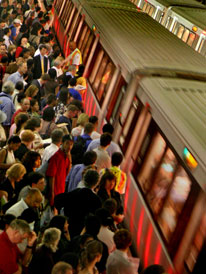 A Metro representative said Angelo Nicholas, 18, of the District was charged with disorderly conduct. Two 16-year-old males were also charged, one with simple assault and the other with disorderly conduct.
Transit police were investigating what sparked the incident and reviewing videotape. No weapons were recovered at the scene, said Metro spokeswoman Cathy Asato. Of the four people who were taken to the hospital Friday, three remained under observation Saturday, Asato said.
On Friday, Fettweis said he and his dinner companion were riding on the train about 11 p.m. when they heard yelling and taunts and saw what looked like a schoolyard brawl involving teenagers at the other end of the car. As the train approached L'Enfant Plaza, Fettweis said, "people started running past us, away from the fight."
Teenagers were yelling and pushing as they got off the train, Fettweis said. As he and his friend walked toward the platform for the Blue and Orange lines, they got caught up in a stampede heading out of the station.
A group of about a dozen teenagers stayed behind, he said, pounding on one male teenager with what Fettweis said looked like a belt.
Within two or three minutes, Fettweis said, a Metro officer arrived and started waving people out of the station.
"We didn't know what was happening," he said. "There was hysteria."<<
For those of you who haven't ever ridden the Metro, here's a brief video of what it's like to wait for the train, then hop on:
Related Posts:
« Entry #97: What's Next For Local TV News? Entry #99: Our Personalities Set By First Grade? »