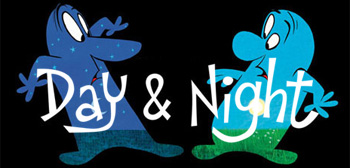 Toy Story 3 is proving to be an able conclusion to the powerful, CGI-animated film series, earning over $200 million worldwide in the last two weekends and winning critics' praise around the globe.
If you'd like to read my review of Toy Story 3, go to SciFiPulse.net.
If you'd like to learn more about the interesting short that precedes the movie, keep reading!
Pixar has been making short films like these ever since they first began filmmaking, and these brief movies are often just as entertaining as the main events. While many folks enjoy For The Birds and Boundin', my favorite remains Presto, in which a rabbit fights with his magician master over a carrot while the show must go on. It's laugh-out-loud funny!
Here's the short's synopsis: "When Day, a sunny fellow, encounters Night, a stranger of distinctly darker moods, sparks fly! Day and Night are frightened and suspicious of each other at first, and quickly get off on the wrong foot. But as they discover each other's unique qualities–and come to realize that each of them offers a different window onto the same world–the friendship helps both to gain a new perspective."
Check out this video about the making of Day & Night:
For more information, you can check out the Pixar website here.
Related Posts:
« DVD Review: 'Justice League: Crisis On Two Earths' Fewer Fireworks Celebrations Will Celebrate July 4 This Year »