As SciFiPulse site Head Honcho Ian Cullen likes to point out, "Wayne will admit himself that his all-out favorite team of heroes is The Justice League, and to him, they are the gold standard." So I obviously was interested in the recent Justice League: Crisis On Two Earths direct-to-DVD movie.
Synopsis: "In a parallel universe, the lone survivor of Earth's Justice League—Lex Luthor—travels through other-world dimensions to join forces with Superman, Batman, Wonder Woman, Green Lantern, The Flash and J'onn J'onzz in a desperate attempt to save his world and its people. But the villainous Crime Syndicate controlled by Ultraman, Owlman and Superwoman will stop at nothing to maintain their domination. It will take wits, might, and a sacrifice to defeat these unforgiving enemies in this spectacular DC Universe Animated Original Movie with a stellar voice cast headed by Mark Harmon, James Woods, Chris Noth, Gina Torres, William Baldwin, Bruce Davison and more. Two Earths, two Leagues and one epic battle collide for a thrilling experience that will leave you breathless!"
Review: If you love action, if you love adventure, and if you enjoy superheroes, this is probably the best or at least one of the best team comics-based movies you'll ever see.  It's the best of all the DC Universe films to date, and very likely one of the best animated "longjohns" (superhero) movies I've ever experienced. It's that good.
Cudos to Dwayne McDuffie, who wrote an incredible script. My understanding is that this movie was supposed to originally take place between the first and second seasons of Justice League to fix some continuity concerns, and had to be updated to stand on its own.  Good job!
From the moment Crisis starts, it grabs our attention and won't let go until it is over. Even as I sit here writing about it, I want to stop and go back and watch it again. This is a film for which I'll stack up a lot of viewings because it works–the music is superb (I have the film's website open, and it is playing in the background as I write this), the voice actors are tremendous (especially Woods as Owlman), the pacing reminds me of last year's Star Trek movie–fast and furious, and the overall story holds together excellently.
One of the strengths of the film is its ability to show group action.  When the Justice League takes on any part of the Crime Syndicate, it is visually something amazing to behold.  It reminds me of Justice League Unlimited, which Bruce Timm was in charge of (and, of course, he plays a part of this motion picture as well), with its focus on various parts of the battle taking place.  I wanted to rewind it again and again, but I had to know what happened next, so I didn't.  I will later, though. Oh, yes, I will.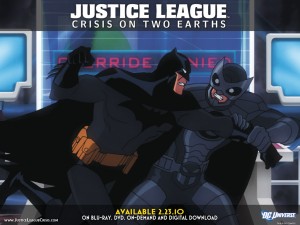 Surprises greet us every step of the way–from Batman's decision to opt out of the mission and how he gets dragged into it, to the romance that involves the last Justice Leaguer I ever thought I'd see taking part in one.
There are so many sequences that I could talk about, like Ultraman's confrontation with the president of the U.S. (Slade/Deathstroke in the DC Universe), Batman's telling the Flash not to take part in a dangerous mission, the battle in the clouds, Lex Luthor nekkid in a police cell, and, of course, the epic battle for all of reality at the end.  The only word that describes it is, "Wow!"
Owlman was a perfect example of someone thinking themselves out of existence.  Being as smart as Batman doesn't mean one will use it well!
I could delve into this film's relationship to the yearly JLA/JSA crossovers back in the day, but it isn't at all necessary.  Still, this DVD does serve that tradition proud, though.
As always, I did have some concerns.  First was the appearance of heroes who do not get identified. Thankfully, I am a long-time comics reader, so I knew The Elongated Man, Halo, Looker, Vibe, Gypsy, Katana, the Marvel Family and Vixen when I saw them (although some of them didn't look at all like they do in the comics – Katana is a perfect example).  It doesn't spoil the film because we can tell right away what their abilities are.  Also, as a fan, I did enjoy the re-imagining and renaming of these characters, though.  Should the film have taken time to introduce all these characters, it might have made the film twice as long.
Second was that the animation is "simpler" than Timm's usual work. It's not as "standard" as the artwork in Planet Hulk, for example, but it could have used more of what I call "the Timm touch," a little more stylization. But hey, I didn't think of that until after the movie had finished, so it didn't bother me that much.
I don't often say this, but be sure you buy this movie if you don't already own it!  It is well worth the shekels and the time!  Now, excuse me while I go watch it again!
Run time: 72 minutes. The DVD has several extras, including:
Disc 1:
"A First Look at the Next DC Universe Movie"
Green Lantern First Look
Superman/Batman Public Enemies First Look
Wonder Woman: The Amazon Princess
Trailers
Disc 2:
DC Showcase: The Spectre
"The New World"
Bruce Timm's Top Picks; "A Better World" Parts 1 and 2, from JLU
Score: 9.5/10
If you still haven't bought this DVD, check out the trailer below:
Related Posts:
« What I Don't Like! It's Like 'Day & Night' For Pixar Films »