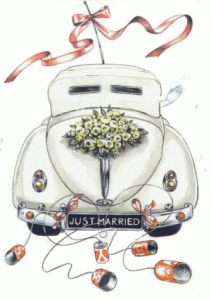 A couple preparing for marriage recently came across an interesting discovery–that they had appeared in the same picture taken in Disneyworld years ago! Here's the story from wesh.com:
>>BOYNTON BEACH, Fla. —
Alex and Donna Voutsinas are like many couples; they met at work, fell in love and got engaged.
Days before their wedding, the couple was looking at old family photos when Donna came across a picture of herself as a child on vacation at Disney and showed it to her fiancé.
But Alex was more interested in the man walking in the background behind Donna's smiling family and the character Mr. Smee from Disney's "Peter Pan."
Alex recognized the man in the background because it was his father, who was pushing a stroller during their own family trip to Disney.
Decades before they met as adults, the couple had crossed paths at Disney as kids.
"Just to be in the same picture with my wife when we were basically toddlers, it's unbelievable," Alex Voutsinas said.
The encounter is more unbelievable because the two families lived countries apart. At the time the photo was taken, Donna's family was living in Florida and Alex's family called Montreal home.
"I was glad he proposed before the picture," Donna said, "because I know that it's because he loves me and not because he thought it was meant to be, it was fate."<<
My only fear is, what if the marriage doesn't work out? Can they sue Disney?
Here's a video of that same story:
Related Posts:
« Star Trek HeroClix Are Beaming In For Your Gaming Pleasure iPad, iPhone 4G Take World By Storm »