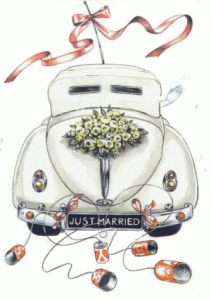 A couple preparing for marriage recently came across an interesting discovery–that they had appeared in the same picture taken in Disneyworld years ago! Here's the story from wesh.com:
>>BOYNTON BEACH, Fla. —
Alex and Donna Voutsinas are like many couples; they met at work, fell in love and got engaged.
Days before their wedding, the couple was looking at old family photos when Donna came across a picture of herself as a child on vacation at Disney and showed it to her fiancé.
But Alex was more interested in the man walking in the background behind Donna's smiling family and the character Mr. Smee from Disney's "Peter Pan."