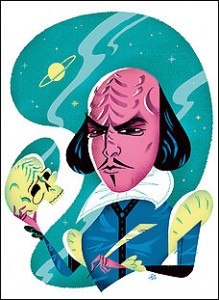 Being a Star Trek fan means I look at the world through different eyes. And I like that.
For instance, I don't look at Shakespeare the same way others do because of references in the show to the writer being a Klingon. That is a perspective that actually makes sense, given the Bard's penchant for murder.
Well, it had to happen: Shakespeare is being performed in Klingon right here in the Nation's Capital. Here's the Washington Post's article about that:
>>How the Washington Shakespeare Company came to offer Shakespeare in Klingon
By Peter Marks, Washington Post Staff Writer
Sunday, August 29, 2010
Don't you love that remarkable moment when roSenQatlh and ghIlDenSten exit the stage and Khamlet is left alone to deliver the immortal words: "baQa', Qovpatlh, toy'wl"a' qal je jIH"?
No? Well, it always kills on Kronos. That's the home planet of the Klingons, the hostile race that antagonizes the Federation heroes of "Star Trek." We learned back in '91 in "Star Trek VI: The Undiscovered Country" that the Klingons love them some Shakespeare. Or as he's known to his ridged-foreheaded devotees in the space-alien community: Wil'yam Shex'pir.