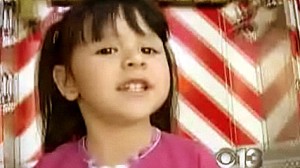 It's really easy to let the negative be your focus and even your obsession. When something happens, it is so appealing to say how hard something was to get done or how imperfect the other person you have been dealing with is. But I just don't believe that accomplishes much. In fact, I think it makes getting good things done all the harder!
For today's entry, I was scouting through the news to see what caught my eye, and there was nothing but awful stuff–things that make me feel dirty even considering mentioning on here. So, when I came across a really good news story, it brightened my whole day!
Here is that story as it appeared on AOL.com:
>>3-Year-Old Saves Dad By Walking To Fire Station For Help
(Aug. 23) — When her father collapsed in their living room, 3-year-old Alesaundra Tafoya knew what to do.
The Manteca, Calif., toddler walked two blocks to the fire station, where she told firefighters her father was "frozen" and needed help.
"I've been here over 20 years, it's the first time I've had a 3-year-old walk up to the fire station," Manteca Fire Department Capt. Robert Villalovoz told CBS 13. "She walked us down to her house and there her dad was, sitting in the living room, needing medical care."
According to the Manteca Bulletin, Alesaundra made it as far as the parking lot behind the fire department when members of an Alcoholics Anonymous support group meeting next door noticed that the toddler looked confused and helped her make it the rest of the way into the fire station.
Alesaundra may have saved her dad's life. Her father, Frank Tafoya, says he accidentally overdosed on prescription medication. "Took a mixture of medication I wasn't supposed to at the time, a bedtime dose, and I guess I collapsed," he said.
Her parents said they'd been pointing out the fire station as a place to go to get help in case of an emergency.<<
It was only a few days ago that I wondered out loud why some people consider children to be stupid, or at least that's how it appears to me. It was so very encouraging to see a young child (with the aid of some adults) save someone in her life. Wow!
Here's a video about this story:
Related Posts:
« Paying For The Privilege Of Blogging 'Beat Whitey Night' Happens In Iowa »