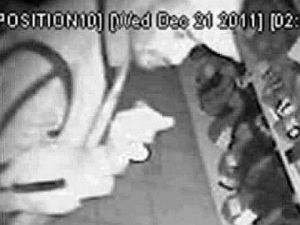 They don't do anything half-heartedly in New York City. And that includes their criminals.
Check out the story from the local CBS website:
>>NEW YORK (CBSNewYork) — Police are searching for a crook, armed with a sledgehammer that is literally going through walls and ceilings to get what he wants.
He's hit 16 stores and the NYPD has jacked up its search after a possible 17th incident was reported on Thursday.
"So he's a thief that, everything that he knows valuable, where he knows that he can have access to make something, he's going to take it," store manager Adesh Maharajh told CBS 2's Pablo Guzman on Wednesday.
And when "Shoeprints" store manager Maharajh says the thief tries to "have access to make something," he means, the thief wants to grab and get away. Maharajh showed Guzman the basement, where the thief smashed through a wall to get in. It confirms what police are saying about the man seen on surveillance video: he is making his own "access."
"No, it's more than one guy. Well, you need someone to do the alarm while you're doing the register. And of course you need someone to look outside to see if anyone's coming," said Maria Munoz of "Upton" clothing.