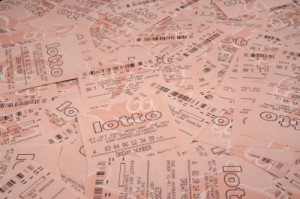 A man's life is apparently worth $4 in lottery tickets.
Check out the story from the Fox affiliate in New York City's website:
>>MORRISTOWN, N.J. (AP) – Felony murder charges have been filed against a man accused in the dragging death of a northern New Jersey gas station owner, who authorities say was killed over the alleged theft of a few dollars worth of lottery tickets.
Bail was set Sunday at $750,000 for 34-year-old Ronnie Fedo of Lake Hopatcong. He's also charged with aggravated manslaughter, death by auto, leaving the scene of an accident resulting in death and robbery in connection with Saturday afternoon's incident in Jefferson Township.
Speaking at a news conference Sunday in Morristown, Morris County Prosecutor Robert Bianchi said Fedo arrived at the station in a sport utility vehicle around 1:45 p.m. and went into its convenience store. At the time, the station's owner — 65-year-old Nisan Ambaroglu of Paramus — was working at the gas pumps and no staffers were in the store.
Fedo soon reached over the counter and took the lottery tickets — about $3 to $4 worth — and put them in his pants pocket, Bianchi said. Ambaroglu then entered the store a short time later and Fedo, after making unrelated purchase, left and entered his vehicle.
After realizing what had happened, Ambaroglu ran out and went to the driver's side window of the SUV in a bid to stop Fedo, who drove off and dragged Ambaroglu through the parking lot and then for about 100 yards on Route 15 South. Ambaroglu then fell from the vehicle and ended up in the roadway as Fedo drove away.