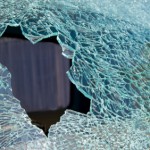 I'm pretty sure this happened in an episode of the CBS show CSI during its first or second seasons. That doesn't make it any less appalling, though.
Here's the story from chron.com:
>>HOUSTON — A suspected drunken driver struck and killed a pedestrian on a Houston freeway early Tuesday, then drove for several miles after the victim had crashed through the windshield and landed next to the passenger's seat, authorities said.
The driver, James Onak, 49, faces a felony charge of failure to stop and render aid in a fatality and a misdemeanor charge of driving while intoxicated, said Donna Hawkins, a spokeswoman for the Harris County District Attorney's Office. It wasn't immediately clear whether Onak had an attorney. The felony charge carries a prison sentence of up to 10 years.
The name of the male victim, 32, has not been released by authorities.