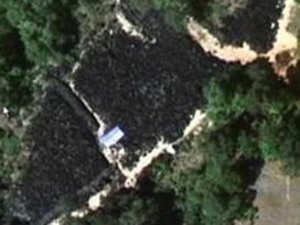 Here's a story that will drive environmentalists nuts! It comes from the website of the local CBS station in Charlotte, South Carolina.
>>COLUMBIA, S.C. (AP) — The sprawling pile of hundreds of thousands of tires isn't easy to spot from the ground, sitting in a rural South Carolina clearing accessible by only a circuitous dirt path that winds through thick patches of trees. No one knows how all those tires got there, or when.
But, Calhoun County Council Chairman David Summers says of this giant rubber menace, "You can see it from space."
Authorities have charged one person in connection with the mess of roughly 250,000 tires, which covers more than 50 acres on satellite images. And now a Florida company is helping haul it all away.
Litter control officer Boyce Till said he contacted the local sheriff and state health department, which is investigating who had been dumping the tires. But the worst possible penalty that could be imposed locally? A single $475 ticket for littering.