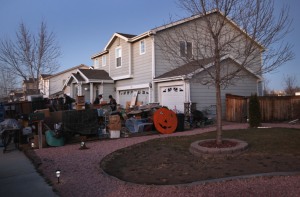 First off, sorry for so few posts this week — I continue to work on my right eye and getting it ready for a corneal transplant in the months ahead!
But I had to share this story from the Charlotte CBS station's website:
>>MOUNT PLEASANT, S.C. (AP) — A Mount Pleasant woman is serving 10 days in jail after failing to pay a $480 fine for having a messy yard.
The Post and Courier of Charleston reports 53-year-old Linda Ruggles has sold blood and even volunteered for medical experiments to get money to keep her home from foreclosure.
Ruggles is a photographer whose business tanked during the recession. She was fined in 2010 after neighbors complained.
The town says it tried to work with her and the police chief offered to round up some young people to help her clean up.
A municipal judge ordered Ruggles to pay the fine or go to jail for 10 days. Officials say she didn't pay the fine within 90 days and then ignored court appearances and warnings from the town.<<
Is Big Brother watching? Yes, he is!
This is the most appropriate video I can find:
Related Posts:
« The First Musical Weekend Of 2012 Christmas Trees Being Set On Fire »