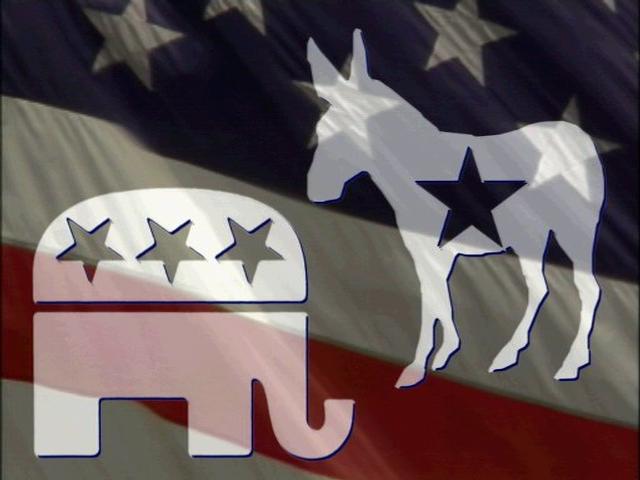 With the country going down the tubes economically and neither political party doing anything about it, it's easy to understand why voters would want to stop being either a Democrat or a Republican.
Here's the story from the WMAL website:
>>(WASHINGTON) — President Obama's uphill battle to re-election is getting steeper.
A report released Wednesday by the centrist think-tank Third Way showed that more than 825,000 voters in eight key battleground states have fled the Democratic Party since Obama won election in 2008.
"The numbers show that Democrats' path to victory just got harder," said Lanae Erickson, the report's co-author.  "We are seeing both an increase in independents and a decrease in Democrats and that means the coalition they have to assemble is going to rely even more on independents in 2012 than it did in 2008."
In eight states that will be must-wins in 2012 — Colorado, Florida, Iowa, Nevada, New Hampshire, New Mexico, North Carolina and Pennsylvania — Democrats lost 5.4 percent of their registered voters while Republicans lost 3.1 percent.  The number of independent voters in those states jumped 3.4 percent.
"People are frustrated and the way you tune out in American politics is that is you drop the label of the two parties," said Steven Jarding, a Harvard public policy professor and Democratic campaign strategist.  "The danger for Obama in this is he is not only going to have to capture them but capture more of them because there are less Democratic voters."
There will likely be more independent voters in the upcoming election than there has been in nearly 50 years, according to the report.  But Jarding argues that could actually help Obama, if he plays his cards right.
"On paper, it looks like, 'Well, it's just going to be bad for Obama,' but a part of me says, 'Bad in what sense?'  He's proven that he can get independent voters," Jarding said.
Obama snagged 52 percent of unaffiliated voters in 2008, but those independents flocked to Republicans in the 2010 midterms with 56 percent opting for a GOP candidate.  Between 2008 and 2010, there was a 27-point shift in which party independents chose.<<
Remember that the definition of "politics" is as follows: "poly" = "many" and "tics" are blood-sucking parasites.
Below is a funny little video about defining politics:
Related Posts:
« Vandals Hit Home's Christmas Decorations Don't Breathe Too Loudly Here! »