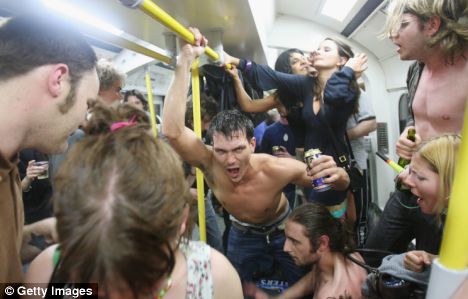 As usual, it's taking society time to catch up with social changes, including the Internet.
Here's a good case in point from the Telegraph's website:
>>Authorities have called for parties promoted on the social networking site to be prohibited in advance if police believe they pose a threat to law and order.
Last month 100 Hamburg police offers made 11 arrests when 1,600 people gatecrashed a 16-year-old girl's birthday.
The girl, who had to flee the party, had apparently forgotten switch on her Facebook privacy settings when inviting friends to the celebration.
Later in the same month in the town of Wuppertal police arrested 41 partygoers and 16 people were injured when 800 users of the social networking site caused havoc at another party.
"If public order and safety are put at risk, then Facebook parties must be banned in advance," Uwe Schunemann, the centre-right Christian Democrats' interior minister for the state of Lower Saxony, told the newspaper Welt am Sonntag.
Facebook is one of Germany's most popular social networking sites with more than 19 million users. As in other countries, teenagers, students and young adults are the most committed users.
But critics of the proposal questioned just how police would monitor Facebook chatter for evidence of a large party and – how they would impose a ban. Blanket bans would also persecute people who had no intention of causing trouble, opponents argue.
"A blanket ban is too simplistic," said Dieter Wiefelsputz, domestic policy spokesman for the opposition Social Democrats.
"Only in justified cases, when riots are predictable should a ban be imposed. It is necessary to educate young people about the dangers and potential costs of an out-of-control party."<<
Here's a video of the same story:
Related Posts:
« Time For Fireworks! 'Warehouse 13′ Returning Soon, First Webisode Released »