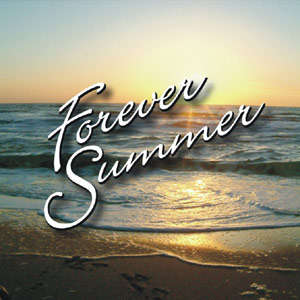 It's the first Monday in May as I write this, and the temperatures sure feel like Summer! Personally, I love this season most of all even though I am a big Christmas/Holiday Season fan as well. The warm weather makes me want to do more, not less. Cold weather makes me stay inside and look for less adventurous things to do.
I've already listened to my "Summer Songs" playlist on my iPod several times. It includes many tunes I never hear on the radio anymore, including "In The Summertime" by Mungo Jerry, "Summer" by War, the recent remix of "Summer Breeze," "The Boys Of Summer" by Don Henley, "Summer Rain" by Belinda Carlyle, "Sunshine On My Shoulders" by John Denver, "Summer's Child" by David Lanz, "Summertime Blues" by Eddie Cochran, "Those Lazy, Hazy, Crazy Days Of Summer" by Nat King Cole, "Saturday In The Park" by Chicago, and "Summer Of '69″ by Bryan Adams.
And I also get to wear shorts at work! I like wearing shorts in the warm weather because it just feels better. Skin was made to breathe, not always be covered up–although I don't in any way think being a nudist is a good idea. I wouldn't want to damage anyone else's eyes with my less-than-ideal body type!
As usual, here's my comics list for this week:
May 5
MAR100042 HELLBOY IN MEXICO OR DRUNKEN BLUR ONE SHOT
FEB100233 ASTRO CITY THE DARK AGE BOOK FOUR #4 (OF 4) $4.99
MAR100281 AUTHORITY #22 $2.99
MAR100183 BATMAN AND ROBIN #12 $2.99
MAR100193 BATMAN CONFIDENTIAL #44 $2.99
MAR100159 BRIGHTEST DAY #1 $2.99
MAR100273 CARTOON NETWORK ACTION PACK #49 $2.50
MAR100223 DOOM PATROL #10 $2.99
MAR100227 JONAH HEX #55 $2.99
MAR100219 JSA ALL STARS #6 $3.99
MAR100229 NEMESIS THE IMPOSTORS #3 (OF 4) $2.99
MAR100192 RED ROBIN #12 $2.99
MAR100230 SECRET SIX #21 $2.99
MAR100199 SUPERMAN WAR OF THE SUPERMEN #1 (OF 4) $2.99
MAR100233 WARLORD #14 $2.99
MAR101030 DOCTOR WHO CLASSICS SERIES 3 #3 $3.99
FEB100974 STAR TREK CAPTAINS LOG HARRIMAN #1 $3.99
JAN100462 INVINCIBLE #71 $2.99
JAN100468 WALKING DEAD #71 (MR) $2.99
MAR100483 ELECTRIC ANT #2 (OF 5) (MR) $3.99
MAR100873 BOYS #42 (MR) $2.99
FEB100840 BUCK ROGERS #11 $3.50
MAR100786 CODEBREAKERS #2 $3.99
FEB101019 COLLECTED RADICAL DREAMER DREAMS CANNOT DIE TP (O/A) (MR) PI
OCT090850 DREADSTAR THE BEGINNING HC (RES) $29.99
FEB101047 GHOST PROJEKT #2 (OF 5) $3.99
FEB100756 INCORRUPTIBLE #5 $3.99
FEB100755 INCORRUPTIBLE TP VOL 01 (MR) $16.99
MAR100796 IRREDEEMABLE #13 $3.99
MAR100857 KATO ORIGINS WAY O/T NINJA #1 SPOT COLOR CVR $29.99
JAN100833 MUPPET KING ARTHUR #4 (OF 4) $2.99
FEB100775 MUPPET SHOW #5 $2.99
JAN100839 TOY STORY TP VOL 01 RETURN OF BUZZ LIGHTYEAR $9.99
NOV090732 ZORRO HC VOL 02 CLASHING BLADES $24.99
MAR100891 ZORRO MATANZAS #4 (OF 4) $3.99
And here's a video of the aforementioned "In The Summertime" by Mungo Jerry. Yeah, long hair was in fashion those days.
Related Posts:
« Second 'Iron Man' May Soar At Box Office Muh-Muh-Muh Mice Aroma! »