I am very fortunate in that I was able to access all three episodes of the British program Sherlock, an updated version of Sherlock Holmes created by Steven Moffat (of Doctor Who fame) and Mark Gatiss. It's well done and very gripping drama and mystery, always keeping the viewer on the edge of his or her seat.
Over on SciFiPulse.Net, site head honcho Ian M. Cullen recently posted the following story about the show:
>>Monsters And Critics has just released its top picks of some of the drama that will be coming up in the new 2010/11 television season.
Amongst the shows listed are two UK productions, one of which being the hit police drama series Luther, which stars Idris Elba. Comic-book fans will see him in the release of next year's Thor movie in which he'll portray Heimdall.
Also listed is the hit BBC drama Sherlock, which broke ratings records for the BBC when it aired just a few weeks ago.
You can check out the full list of recommended drama here at Monsters And Critics.<<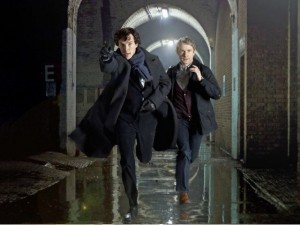 Want to know more about Sherlock? Here's some more infro from Wikipedia:
>>Sherlock is a British television series produced by Hartswood Films for BBC Wales, co-produced with WGBH Boston for its Masterpiece anthology series. It was created by Steven Moffat and Mark Gatiss, who wrote one episode each. Paul McGuigan directed the first and third episodes; Euros Lyn directed the second, which was written by Stephen Thompson.
It is a contemporary update of Arthur Conan Doyle's Sherlock Holmes detective stories, starring Benedict Cumberbatch as Holmes and Martin Freeman as Dr. Watson. Una Stubbs appears as their landlady Mrs. Hudson, and Rupert Graves as DI Lestrade.
The three-part series was transmitted on BBC One and BBC HD, in July and August 2010. The critical reception was mostly very positive. These episodes, along with the unaired pilot, will be released on DVD and Blu-ray in the UK on 30 August 2010. Following the critical acclaim that the first episode attracted, BBC executives were reportedly interested in commissioning more stories. It has been confirmed that Sherlock has been renewed for a second series.<<
Here's a video about the show:
Related Posts:
« One Less Thing To Stress About Spiritual Songs For A Saturday »