You just can't make this stuff up!
Now, I know that being a guy means that we can get nervous when we are involved in something important. But read the story below to see just how bad a situation can get, from wbztv.com:
>>$9,000 Engagement Ring Lost During Proposal
When Matt Cawley popped the big question to girlfriend Stacey Scanlon, it's fair to say it could've gone better.
"Just another chapter in the book," said Cawley.  "I was like 'Here we go!'"
"I feel like it's a story that'll be passed along in our families forever," added Scanlon.
They're talking about the loss of a $9,000 diamond engagement ring — a family heirloom.
Cawley's plan was to surprise Scanlon with the ring during a romantic walk along Lighthouse Jetty in South Yarmouth on Monday morning.
He tied it to a big sand dollar with some string, slipped it onto a rock when she wasn't looking, and then slyly called her attention to it.
She grabbed the sand dollar, but the ring tumbled into the rocky nooks of the jetty — and vanished.
"You could just hear it go — click, click, click — down through the rocks," said Cawley, a 30-year-old from Dedham who works in his family's restaurant.  "I knew it was gone."
"It was just a freak accident," lamented Scanlon, a 31-year-old schoolteacher from Needham.  "I don't understand why it happened to us.  It's one of those things 'Why us?'"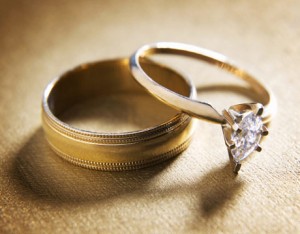 The panicky couple summoned beachgoers, lifeguards — even Tom Flynn with his metal detector.
But four hours of searching proved fruitless.
"It was good even though we didn't find it," says the retiree.  "Everybody helped.  That couple will come back here on their anniversary and say 'That's where our ring is!'  It was quite the human interest story."
The couple's relatives – waiting back at the house to throw an engagement party – were left to wonder.
"They were worried because we were gone so long," said Cawley with a laugh.  "Either thought she said 'No!' or they thought we got a room."
They chuckle now, but admit to tears then when the emotional freefall hit them.
"I was excited to think he was proposing, but then nauseous because the ring was gone," said Scanlon.  "It was just a million feelings at once."
Cawley just shakes his head.  "I asked her 'Did you at least see the ring?' And she said 'No!'"
But Cawley still uttered the key question as they made their way back from the beach — ringless — and Stacey said "Yes!"
"We came to our senses after and realized its not about the ring," said Scanlon.  "It's about getting married and starting a life together."
Now Cawley knows why his Mom scolded him so often as a kid about climbing on those rocks.
"And now 30 years later she's saying 'I always told you to stay off those rocks!'  So listen to your mother."
Good idea.  Because last Friday, Matt's mother, unbeknownst to him, went ahead and insured the ring — just in case.<<
Thank goodness for the smart Moms in the world!
Okay, here's a video about marriage proposals gone wrong:
Related Posts:
« We Need A Better Economy! My First 'Monsters And Critics' Column! »