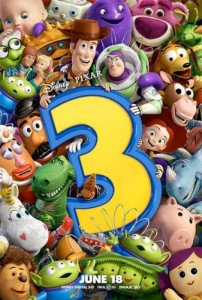 Toy Story 3 collected an estimated $153.8 million around the world during its first weekend of release, pushing up the U.S. box office 30 percent over the same weekend last year, according to Variety.
The Disney/Pixar sequel brought in an estimated $109 million in the States alone, with overseas figures coming to a total of $44.8 million in only a quarter of the international market. Toy Story 3 is now Pixar's highest-grossing opener around the world.
On the other hand, Jonah Hex, based on the DC Comics character, captured only $5.1 million in the U.S. Theater observers called the opening "more than disappointing," but word had come out that the film was not going to be The Dark Knight, but more like Catwoman.
Two videos today! First, here's a trailer for Toy Story 3:
Second, here's a fan film that is set on Batman.  Check it out:
Related Posts:
« Happy Father's Day, Dad! Baseball Player Hits Homer For His Father In First At Bat Since His Dad Passed Away »